I watched GSDestiny until episode 33 just now c/o my great friend, Monik.
Thanks a lot, Monik!
.
I'm happy to know that
Athrun has not betrayed Cagalli at all!
I'm so happy. Athrun sleeping with Mia Campbell? Just a misunderstanding! Yup, yup. The thing with Athrun's fangirls a.k.a. Lunamaria, Mia and Meirin is just one-sided. Oh yeah!
Too bad Athrun's being distant with the Archangel crew because of stupid reasons. ARGH. I hope things get straightened out soon.
Btw, Rey is so gay. XD (Whoa, three rhymes in one sentence!)
Not much surprise there, really. Since in the flashbacks, he looks so much like a cute little girl. And there's this one scene where he hugs Dullindal and looks all gay with the sparling eyes and bg. I was like, "WTH?!" Especially in the flashbacks. I mean, whoa.
I like the current OP and ED songs and videos. The OP was like,
"Mwu and Murrue sadness!"
and the ED was
"Awww.... how cute!"
I love the ED. They even show those dead people way back in the first season like Natarle and Aisha. It was beautiful but sad because it reminded me of how perfect they were back then.
*sighs*
The only sad thing was the Mwu/Murrue scene. Wah! I
REALLY
hope they have a happy ending.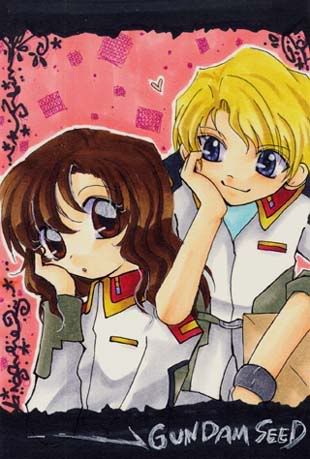 I mean, look at how cute they are! They're so perfect together! I just lave them both!
*hugs*
GSD better give them a great ending or I kill them.
XD
Something cute for Yuko-chan, an AthrunXCagalli fan but also halfly AthrunXLacus fan: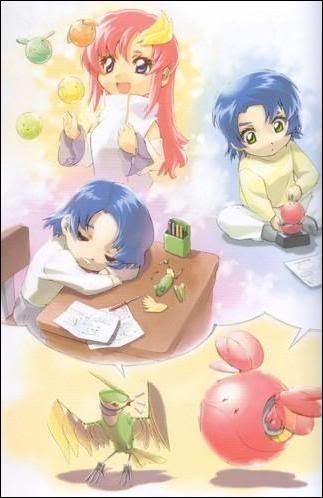 Oh yeah, these are OT but happy news so....
Tsubasa Chronicle 10 has aired in Japan! One more day till D-day! Oh yeah!
KayJuli updated her blog again. I'm translating it right now for more news. I saw the keyword "TPoTH" and that could mean an update! So y'know,
*winkwink*
It's longer than usual though, so it'll take me a while. XD But I'll update on it ASAP.
Mood: relieved but sad
Music: Shackled - Vertical Horizon