Tokio Hotel has srsly taken over my life. For srs. I have dropped all other fandoms and have gone on an indefinite hiatus on everything not related to them. Even
Kimi ni Todoke
and
Dahil May Isang Ikaw
are neglected. I haven't seen the last 2 episodes & chapters as well as the last 8 episodes for both respectively.
Will probably pay the rest some attention after the fair. Probably.
I have no regrets. *O*
Check out my new layout, moodtheme, favicon and default icon desu yo:
Speaking of the fair. You guys! Our fair is in what, two weeks? And I don't think I've plugged it here yet, shame on me! Let me remedy that~
For its ninth year anniversary celebration, the University of the Philippines Anime Manga Enthusiasts leaps through boundaries as it turns the pages of time back to the age of feudal Japan! Get ready for a historical event as your favorite collegiate anime organization presents yet another timeless anime fair!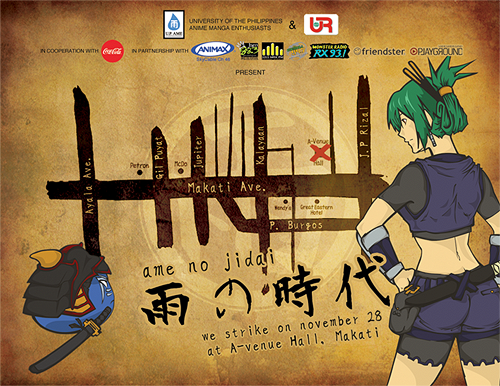 AME no Jidai
Making History
NOVEMBER 28, 2009
A-Venue Hall, Makati
1:00 - 10:00 PM

Cosplay Competition ● Dubbing Contest ● Tea Room ● J-Music Concert ● Fanart Contest ● Fair Booths ● Karaoke Contest ● and many more!
Presale tickets at
90 pesos
, regular tickets at
100 pesos
; purchase your presale tickets now! Drop by from November 17 to November 20 at the AS Walk, and on November 24 and 25 at the CAL Basement to purchase presale tickets for the fair, as well as to check out the exhibit for AME no Jidai!
For more information, contest mechanics and event updates, please check the
OFFICIAL FAIR MICROSITE
or the
UP AME FORUMS
!
The
UP Anime Manga Enthusiasts (UP AME)
is the first ever recognized collegiate anime organization in the Philippines. They are also the same group behind previous successful events such as the
Una kAME!, kAME Ulit!, AME Matsuri, AME Gakuensai and AME 8th Avenue
.
Please tell me you're coming, you guys! I'll be serving as a host the Buru Buru Tea Room then so be sure to drop by and say hi if you do!~
Have been wanting to update on rl (i.e. Hong Kong! et al) for some time now so expect a tl;dr sooner or later~
ps, Why do I find this post kinda gay?
Mood: tired

Music: Beicht - Tokio Hotel