Murrue, my beloved probinsyanong cactus from Baguio, is blooming like whoa!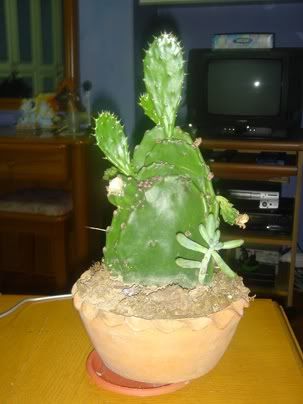 See those four portruding watchamacallits on the top? (The 4th one is hidden behind the biggest one.) They've been growing since last week now! :D Oh yeah! I'm so happy for her!
Raku, on the other hand, is a rebellious case.
Look! He's defying the natural effect of geotropism!
WHY ARE HIS ROOTS GOING UP LIKE THAT?!
I'm thinking it's the soil. I sort of filled up the empty spaces in his pot with garden soil. As a result, unwanted weeds are growing out of the soil as well. IHATETHEMWEEDS. I was screaming the whole time my mum pulled them out of the soil last week, thinking Raku would be pulled out too. Luckily, he didn't. XD
----
Today, I just realized how many of my beloved belongings (a.k.a. pets) have names.
This morning, two more of my possessions were named.
Simon Ochita
is the name my beloved Geom/Trigo seatmates,
anriz88
and Umag gave my eyeglasses. I don't think my glasses is "Simon Ochita"-ish. But it's already too late. They already named him and they stubbornly refuse to give him another one. -_-
At dismissal time, I realized my school bag deserves a name too. Afterall, he's been with me since the 4th grade now. XD His name is
Forje
. Patti named it for me. :D She's really good at it, no? Next time I name something, I'll ask her for advice. :D
Last week, me and Sacla named two others. They are the twin fountains at the HS building who are separated by a mere floor. The one next to the faculty washroom is called
Ochi
(named by Sacla) and the other one, next to the Math room is
Orochi
(named by moi). Cool, no? :D
----
And after much whining, I was able to convince my mum to let me bring her DigiCam on Saturday. Hah. The power of persuassion. I just hope Elo can make it. Good luck,
schizojunkie
.
----
I'm using Tiff's i-net card, by the way. (I know told you I'd stop using it after the fanart thingy but I just needed MORE. Heheh. ^__^;;) Thanks, Tiff! :D Don't worry, I'm typing this entry offline to save internet time for you. I only used up 10 minutes more of your card. XD
Mood: enthralled

Music: Speed of Sound - Coldplay