SO HAPPY!
As expected, the reason of my hapiness is Ai-chan, my newest sister! Though we've only been togather for 3 days, it's such a memorable experience!
Went to school last Saturday to wait for their bus to arrive. They were supposed to arrive at 11pm but they ended up arriving around 12mn because their flight got delayed. (Darned Filipino time! And to think for once, I was the earliest!) But we were so excited, we didn't mind. :D
She was so cute in her uniform! And I was stupid enough to leave the camera at home. We have a picture but it's too blury to show.
*muttermutter*
She hugged me when we met each other! And she said, "Magandang gabi po." in her cute Japanese accent while she was reading her paper of notes. (SO CUTE!) She's fifteen and she celebrates her birthday on February 17 (10 days before mine! FATE!) She simple, doesn't put make-up like some of them. (FATE!) She likes pink. (Okay, so no fate here.) And she loves music. :D
She's also quite shy but she's friendly when you talk to her. She knows English quite well. (Good for us, LOL.) And she's also very happy. (She smiles and laughs a lot, SO CUTE!)
She gave me lots of gifts, I already felt guilty. She gave me this cool Japanese music box, a cute cat-designed celphone holder (which creepily turns it's head a full 360 degrees), keychains, stationeries, postcards, handkerchiefs, this cool Japanese chimes and many more! She even gave me a postcard of their school! They're really generous, no? I'll be sure to get them something good before they leave.
She likes Naruto
*nudges
psychedelic_aya*
and Tsubasa: RESERVoir CHRoNiCLE
*faints*
And she likes to draw.
We slept around 2am that day because she wasn't very sleepy though I was, LOL.
The next day, we picked up
psychedelic_aya
before showing Ai around. We went to AYALA MUSEUM, NAYONG PILIPINO, INTRAMUROS, MANILA CATHEDERAL and probably some other stuff but I don't remember anymore. XD I bought her 2 miniature bolos (Katipunero's weapons) and Hana-chan bought her a cute fish wallet.
Today, we had the welcoming ceremony, they sang, they danced, and I WAS STUPID ENOUGH TO LEAVE THE CAMERA AT HOME
AGAIN
.
And they were so cute too! >____<
PFFFT. I HATE MYSELF.
We had to leave them because they were going to sleep over at school tonight. :( Sadness. I miss her already. Heheh. When she's free, we shall tour her around the village with Bau. Hahah. So excited. I hope she likes the Philippines so far.

Ai-chan at the Ayala Museum. You can't take cameras inside so we only get to take pictures outside. XD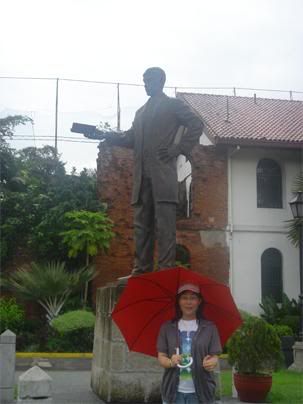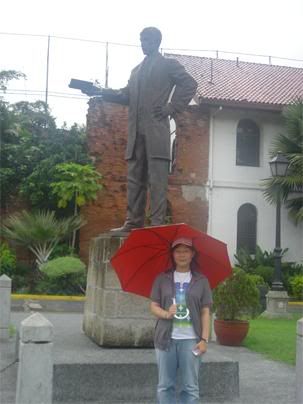 That statue is Jose Rizal and it took us at least 30 minutes and a guard to tell us this to figure it out. XD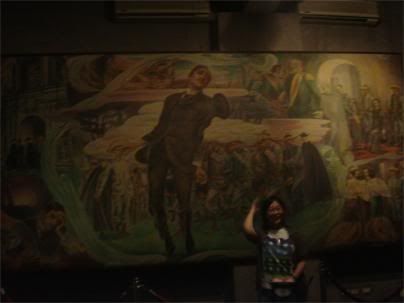 She's fixing her hair and I am wasting memory space. But this is Ai-chan so who cares? XD



You're not supposed to take pictures inside the Rizal shrine but for some reasons, we were able to. XD
Ai-chan is looking solemn at Rizal's death.



Ai-chan posing at the Manila Cathedral. :D She's so cute!
She's going home at 8pm tomorrow. Can't wait, yayay! :D So excited, I'm sure
vermicide
, heheh.
RANDOMNESS:
I edited my
USERINFO
to a much more decent one. Heheh. Not that it's any more informative than it already was, but just so you know, you know, Mirin. :D
| | |
| --- | --- |
| | Mood: enthralled |