The field trip was fun.
I died numerous times, lost a pair of sandals, walked barefoot in the mud, used improvised sandals (care of Myca's resouceful primitive skills, btw) and experinced stupid effing cramps three times in a row.
It was fun, really. XD
Sir Ron's Hawaiian shorts were okay. The kiddie playground at McDo was fun. Alessa's screams of agony and pain to mud was love. Kuya Alex's stupidity was stupid. Achay's 15 minutes in only a malong was hilarious. My partner, Papaya, and her extra sandals rock. Kuya Jon-Jon's rock hopping skills were
whoa
. The cold batis was paradise. Kuya Alex's ghost stories were weird, stupid and
funny.
Ms. Sarenas's nonchalance to everything was unbelievable. And my 2 flashlight keychains were the best.
I told you it was fun. :)
I even bought a Kakashi keychain at the last stopover and picked up a Tweety staitionary at the parking lot at school. XD Fun. Free is my favourite number.
First stopover: McDo
Wasting film from excitement.
WELCOME.
Hana, me and Papaya.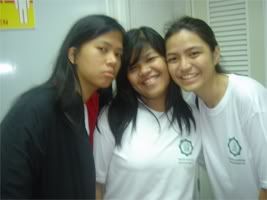 WAITING.
Papaya, Jilleh and me striking a pose in front of the men's comfort room.
We were waiting for a chance to answer nature's call.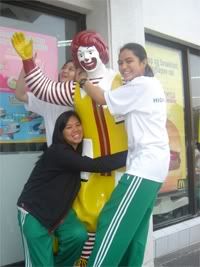 LOVING RONNIE.
Us three again.
DISGUSTING.
Papaya harrassing poor Ronald.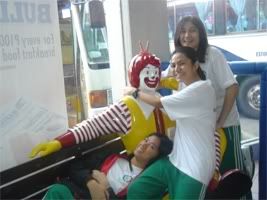 LIESURE WITH RONNIE.
Us three again.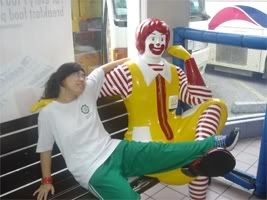 BEST BUDDIES.
Krinkle looking cute and kiddie with Ronnie.
Destination: Wilderness
Enough said.
SMILE.
Myca, Papaya and me in front of Yungib 2.
First and only picture of us in the wilderness.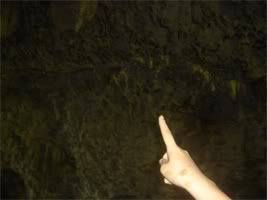 LOOK!
Useless picture of Yungib 2.
That's Papaya's finger, btw.
After the hike
Now that we're all fresh and clean....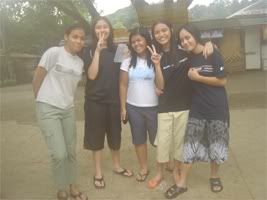 BAGONG LIGO.
Ate Johnie(sp?), Hana, Jilleh, me and Mishel, fresh and clean after swimming at the batis.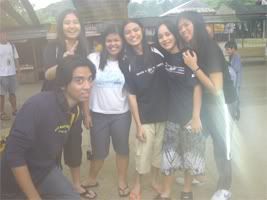 WOOOOSH.
Kuya OJ, Hana, Jilleh, me, Mishel and Papaya in a weird blurry picture.
Kuya OJ wasn't supposed to be here, he just
wooshed
in. XD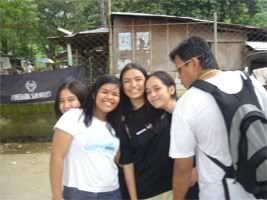 LAKBAY ATTACK 2.
Hana, Jilleh, me, Mishel and Kuya Joel. (Thanks, Mishel! :D)
He obviously wasn't supposed to be here either. XD Nice how everyone loves the camera, no?
Sir David
as promised for
psychedelic_aya
If you want bigger pictures, ym me. :D
GASP!
Sir David in--gulp--floral shorts! Those kind of shorts are better off on Sir Ron.
Hana was obviously fooling around while I took the picture, self-loving fool. XD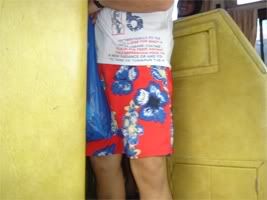 DISTURBING....
Close-up of the scary fact.
Kuya Alex
The funniest but freakiest Lakbay guide in the history of history.
GUESS WHO?
Kuya Alex playing with his food. XD
DIVA QUEEN.
Feel na feel ni Kuya Alex ang pagkanta niya. ROTFLMAO.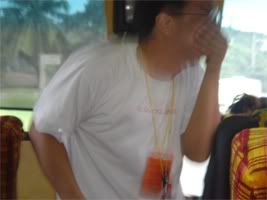 CAUGHT IN THE ACT.
Kuya Alex caught mocking Ms. Sarenas.
He kept apologizing after. XD
Kuya Alex being the baby he is.
He obviously wasn't sleeping, just posing for us. XD
Random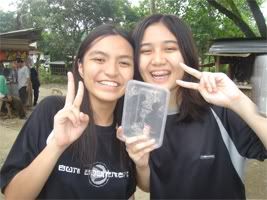 TUPPERWARE.
Hana and I.
Don't ask. It was Hana's idea to pose the freaking tupperware.
FATAL FRAME.
Papaya and I.
With big faces like that, who
wouldn't
be sacred?
IDIOTS.
Hana and Papaya fooling around.
NICE....
While I was smiling at the camera, Hana was too busy looking like an idiot.
(Which is typically how she always looks so why bother? XD)
NAF AND LODI.
Mishel and I. :D
Picture c/o Mishel.
CANDID.
Hana in bus 7, taken from our bus 8.
She was stuffing herself with potato chips when we took this picture.
WITH THE JESTER HIMSELF.
Kuya Alex, Papaya and me.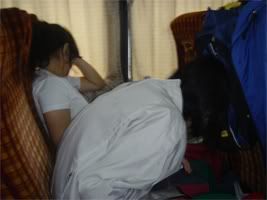 BUSHED.
Krinkle and Ally, snoring their tired bodies away.
LOVERS' BRIDGE
Clara and Papaya.
I have no idea what the hell these two are doing.
FRONTMATES
Frontmates, Raisa and Clara striking a pose.
PITIFUL.
Papaya and I.
Our pitiful attempt to look pitiful was pitiful indeed.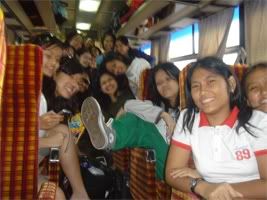 SNAPSHOT
A snapshot of our class.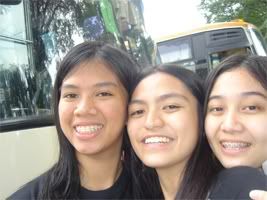 END.
Well, that's it. :)
But before I go, a treat:
Partners Forever

A photostrip by
kyoy and
darkmaestrox
Starring Margaling and Giggling Ritz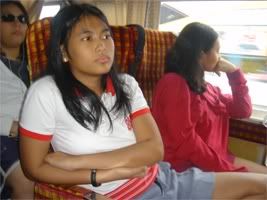 Marga and Ritz have a fight.
Ritz: (thinking) I hate Marga forever.
Marga: (thinking) I hate Ritz forever.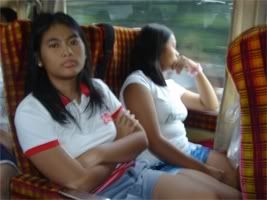 Ritz: (thinking) I hate Marga forever.
Marga: (to photographer)
Ano tingin-tingin mo dyan?!
Photographer: *cowers in her seat*



Ritz: (thinking) I hate Marga forever.
Marga: (thinking) Nakakapagod naman
magalit at maghintay. *hikab*



After a few minutes, Marga and Ritz
finally decides to set their
differences aside, turns around
and apologizes at the same time.
Marga and Ritz: I'm sorry!



Once they become friends again....
Marga: Picture tayo!
Ritz: Okey!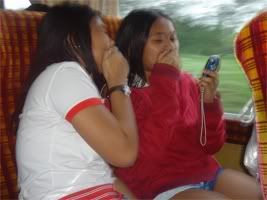 Marga: *gasp*
Ritz: *gasp*
Best friends gasp at their picture.



Marga and Ritz posed.
This was their picture.

END.
Okay, so that was a pathetic photostrip but it was funny for me and Papaya, so bugger off. XD We decided to make this photostrip because everytime we glanced Marga and Ritz, they were always looking like the worst enemies in the world, and it had us laughing the whole trip. Marga can look pretty scary without even trying. XD
As I mentioned earlier, it's my Kuya's birthday today. I gave him Sugarfree's
Dramachine
and was surprised he loved it. XD
For his birthday, my brother decided to go to the cheap restaurant, Teriyaki Boy.
Me:
Nice ceiling....
Mom:
Stop wasting space!
Me:
Hindi naman eh!
Mom and me:
*wrestles for the camera*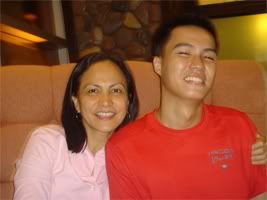 Mom:
Picture tayo!
Kuya:
*sighs*
Me:
(thinking) Ang tagal ng pagkain....
*snores*
Dad:
Nasan na yang waiter na yan? Gutom na ko!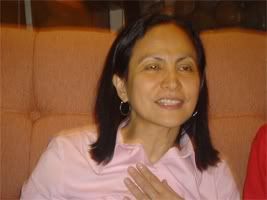 My mom was actually narrating a story to my dad here.
But she looked like PGMA, giving a speech. XD
Mom's comment on the picture:
Bastos talaga kang bata ka, bakit mo ko kinunan?!
Me:
*is proud*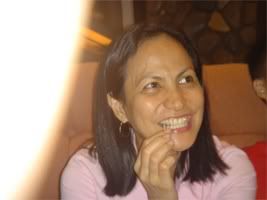 Mom's comment on the picture:
Ay, di bale, maganda pa rin ako. Galing ko talaga, photogenic.
Me:
o.O
My mom's face is covered! LMAO.
Mom's comments on the picture:
Stupid waiter.
*mumblemumble*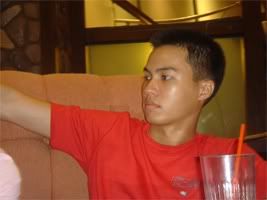 Kuya's comment on the picture:
Bakit mo ko kinunan? Ay okey lang, parang Randy Orton naman ang kuha ko dito.
Me:
o.O
*throws up*
Mag-ina nga sila. Hmmm.... Birthday naman, pagbigyan na.
HIHIHIHI.... This is what happens when I am left with alone with a camera. XD
I take cadid shots. Muwahah.
Mood: amused

Music: Sugarfree - Kuwarto