I'm currently downloading TC EP1 from Anime Fansubs and Solar. (Ya, I know. Need a life.) And I had nothing better to do so I checked MT for more updates. And I found some cool pictures of S+S! (I had to make a photobucket account just to show you these. (Got the idea from my friend. I think she also uses one. Thanks,
psychedelic_aya
!) So be thankful, mirin!)


This one's a cool CLAMP pic I got long ago. Look so cute together, no? This is probably my most fave scan.


This is a doujinshi made by lkjhgfdsa So cute! I love the expressions on their faces! *glomps*





Another doujinshi. Kawaii chibi! *pokes*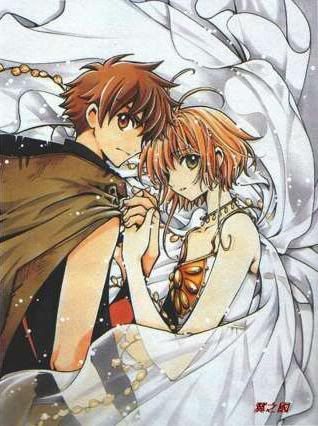 The current highlight of my life!
I saw this new scan just now! Never seen it before, that's why I'm so ecstatic!
YAY! *jumps up and down* YAYAYAYAYAYAYAYAYAYAYAYAYAYAY!
How do you like them? There's more. But I'd be taking up too much space. I'm sure you've fallen in love with this couple as well, miri-chan! They look so perfect together, ne?
*sighs*
To other stuff, lemme share to you my BitTorrent Experiences. You need to know about this. It is the most frustrating part of my TRC-addicted life. It's the update of the current TC downloadable I am downloading at the moment. I shall be sharing to you this bit every moment I get.
Behold, the
BTU: 29.1%
Anyhow, (Hah, quick topic change!) there's this song stuck in my head. It's from Syaoran's music video memory in the 3rd episode. I dunno the title of the song. I researched on it but to no avail. Oh well. I copied the lyrics from Live-Evil's (and DatteBayo's) subtitles instead. Hahah.
I'm leaving tomorrow to stay over at some hotel. (I forgot the name) We're gonna be there for 2 nights. The point is, I cannot download the 4th episode when I'm away! What do I do now? I need more S+S moments! Argh! I'm lucky we won't leave until after lunch. I better wake up early tomorrow. Hope I can finish downloading it before we leave, tough luck of that happening though. Oh well.
Night, mirin! I shall sleep early tonight so I can wake up early tomorrow! The sooner I sleep, the sooner tomorrow comes.
BTU: 31.0%
Nice.... -_-
Mood: jumpy

Music: unknown song from Syaoran's memory