Ferrero is love. Toblerone is love. Hershey's is love. Chocolates are love. Balikbayans are love for sending chocolates.
But these are not enough. Nakalimutan kasi ni Papaya ang droga eh.
But yet, I feel high and I feel like posting. So there. XD
Everything here is stolen from
anne_defin
while chatting last Sunday. Thanks for sending them to me, Seatmate! <33
PICTURES!Field Trip
I remember my parter was Hana....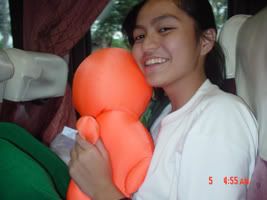 Me and Bob. Bob and me.
Bob is Sevvy's friend.
Bob. Rhymes with Blob.
It's clearly obvious that Bob <3's me. XD
Me, Sevvy and Bob.
(Can't see him? Then you are BLIND.)
I seem surprised. XD
Hana and I.
On drugs? We need more chocolates. XD
Seatmate Anne better stop taking these candid shots.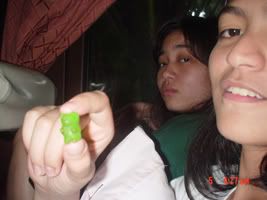 Gummy striking a pose before he went in my tummy.
Don't mind camwhore Hana.
Hana, me and Lap.
I look sleepy but I love this pic. XD
Hana and me after swimming in the river.
(My, such short hair I have!)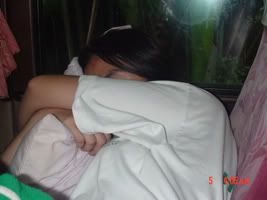 I don't remember if I was sleeping here or hiding from the camera.
Ramayana
Behind the scenes.
Hana, MJ and me doing props with Moning's wonderful cottage.
I love this pic. <333
Me, MJ and Hana looking like fools.
We were taking a break. XD
This pic is love as well. <33
Me and Seatmate Anne.
While everyone were busy panicking at the last minute, Seatmate and I took a picture. XD
Fair
Fair nga ba? Hindi ko maalala....
Seatmate Anne and I.
I have no idea what the hell I'm doing.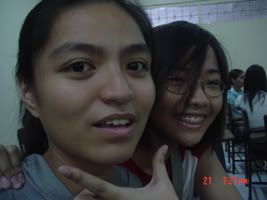 Me and MJ.
Seatmate Anne: (with the camera) Oist, tingin!
Me: Hah? (turns around)
Seatmate Anne clicks while MJ flashes a smile.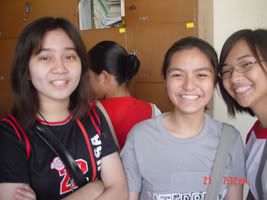 Hana, Me and MJ in front of our lockers.
I'd love to
steal
borrow Hana's shirt someday.
Us again in front of lockers again.
Seatmate Anne and the camera loves us. XD
Blah
Too lazy to remember when these happened.
I look cool, don't I? XD Like a secret agent!
(I was actually hiding from the camera.)
JL. <33
Lap's pose is love, Sevvy got cut and MJ looks like a floating head.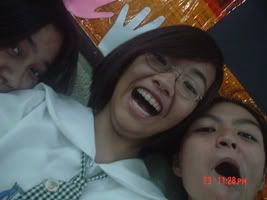 Hana, MJ and me.
I love this picture.
Namemate, me and Seatmate. <33
Another picture I love.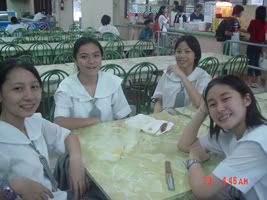 Patti, me, Ate Umi and Alyssa.
I miss Ate Umi.
END.
VIDEOS!
From Seatmate Anne again, of course. They're quite blurry but they really made my day. Especially the last one. XD I just hope they work.
[
Kaikeyi's seduction
]
vermicide
in blue, Margaling in orange
If you squint, you can actually see MJ grinning. XD
[
Dasa-ratha and Vasistha's Groove
]
vermicide
in blue,
psychedelic_aya
in red
I love the part where MJ pushes Hana with full force.
And my all-time-favourite that had me LMAO:
[
R-A-M-A, what's that spell?
]
(left to right)
inredibabe
,
justhoopla
,
schizojunkie
Watch them three make a complete fool of themselves. I especially can't take my eyes of Umag. XD
I also have one of me, Marga and PJ belly-dancing. But I will never post. I was stiff and I looked stupid. That wasn't even belly dancing. A sorry excuse if you ask me...
Belly dancing? Never again.
NOTE: If the links expire and you want to download them comment and let me know.
END.
I still miss our class. They were so funnnn. <333 Thanks to Seatmate Anne for the memories. :D
Hmmmm..... what else?
I still want more drugs.
Where are those chocolates, Papaya?
exit42
: Did you watch it yet? Please say you did. I shall lend you the Last Order for comfort. (Wala si Aeris dun. :D)
Mood: nostalgic

Music: Maaya Sakamoto - Purachina