anriz88
, sorry for finishing up your water today. It saved me from the Great Thirst though, thank you.
raisincreams
, HAHAHAHAHAHAHAHAH! (x infinity)
anne_delfin
, are you online?
austere_flare
, the same song has been stuck in my head all day. Imagine that. And I still can't get over the fact that you are a fan. :|
nesting_doll
, did you get the poster link?
darkmaestrox
, it was the first time that I saw you portray Donya Consolacion. *palakpak* Mukha ka ngang multo pero in character naman!
Di gaya ko.
Pero wala pa ring tatalo kay Marga. Btw, may libreng ink yung pinabili mong bolpen. Galing no? Bumili din ako nung akin, dalawa habang may promo.
justhoopla
, ang cute mo. Whahah. Don't worry, di ako galit sa iyo.
psychedelic_aya
, I miss you. *dodges
darkdepth
and her
(sadly)
fellow fans* XD Btw, ang panget ng inbox mo. That is one of the reasons you should let me clean your email up. But wait, I'm too lazy. Btw, ISP? ;;)
dark_depth
, please don't get any ideas. Btw, are you okay? Your reaction when you found out Hana had a date was scary. Please calm down.
barnacleboi
, thank you for the letter. You'd really ditch your date for moi, dear Namemate? ;;) I am utterly touched.
vermicide
, salamat sa MirrorMask. Oo, iingatan ko siya. At bibilisan ko (sana).
cryptaviscus
, you are sexy indeed: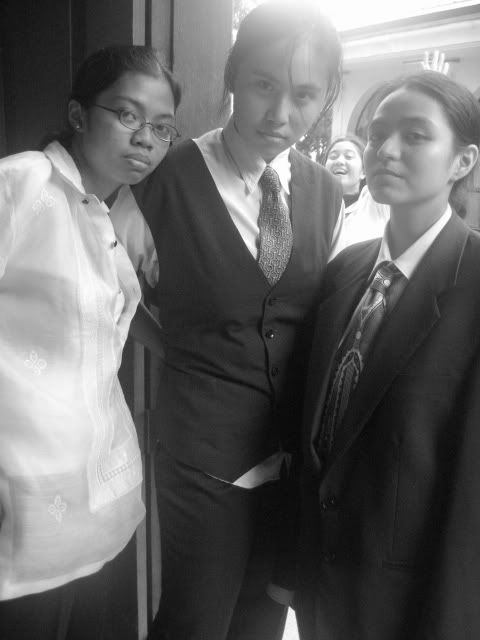 psychedelic_aya
, ANG EPAL MO. Stop being a camwhore.
frio69
, where art thou? Wala na akong katabi sa Chem, bumalik ka na. I miss your hearty insults.
cunejo
, sino ka? Ilang araw na ito bumabagabag sa akin.
bauuu
, oo, class mass natin bukas.
sm16
,
serenityrages
,
psychedelic_aya
,
cryptaviscus
, DEADLINE'S IN 6 DAYS. KAYA PA BA NATIN?
More (YM) randomness:
kyoy:
room 8: noli bukas hanggang 6 - macy
elo:
SIGE
kyoy:
see you there! >:D<
kyoy:
:))
elo:
=))
And no, we are not in denial.
Class mass tomorrow and dearest Birthmate
schizojunkie
and I are Responsorial Psalms people by fate. Amazing.
I got to fit my black socks today. They fit perfectly. I actually like them. Yay. Thank you,
psychedelic_aya
for the help. I hope yours went well. Fairview is a long way to go!
I have MirrorMask, yay! I can only watch tomorrow, yay! Why? Because I was bored to death, wasting my time, thinking of what to do when the DVD was sitting on my bed the whole time. Stupid. Why not now? Because I am sleepy.
I want to go to Eurostar bad but it seems hindi matutuloy. If worse comes to worse,
darkmaestrox
, are you in?
My throat is dead sore the whole day probably because of chocolates yesterday. At least my body rashes seem to be decreasing. But I hate sore throats the most.
Sir Ron was on my good side yesterday for bonding a bit with the class. (I felt sorry for him at first because he seriously wanted to get out ASAP. It was good he finally shared. A bit.) But everytime a quiz pops out, I die. Numerous times. Again and again. And again. And again.
I finally got myself a gmail account. (THE LABELS ARE SO SHINY!) But I'm still thinking if I should change the username.
Oh, and I typed this fanfic I finished last weekend but wanted to post in
renaissance_era
today because of need for editing. But someone hacked into my computer and deleted it. (Or renamed it or whatever.) Either way, I cannot find it. DAMN
YOU
IT. I'm too lazy to retype everything from memory. Besides, it wouldn't be the same. I
knew
I should've posted it last Saturday.
My throat is still sore. Like hell.
Mood: sore

Music: Narda - Kamikazee