HAPPY BIRTHDAY, ELODEAR!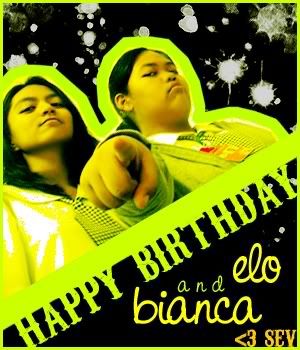 I love this card thingamajig, we look so awesomely cool.
Thank you, Sev!
We are so old, damn.
We missed Ms. Zuela today, yes.
We missed Chem quiz today, yes.
We die tomorrow in Chem quiz, damn.
We have Noli presentation on the same day, cool.
Dapat may pasok na bukas para hindi mapanis 'tong regalo ko sa'yo.
----
I love this day.
Thanks to everyone who greeted me. (You know who you are--I'm sorry I'm not like Anriz who will name every single one of you. XD)
Your cards, texts, calls, YMs, posts, comments, emails, letters and powerpoint (GASP, Seatmate! I still can't quite get over that!) made my day. The early birds were really early. o.O (Yes, I'm looking at you, Anriz.) And even Ally greeted me! Yay!
I'm sorry I couldn't reply to your messages, I am poor.
But yay, I feel so touched. <3
----
I'm too lazy for this right now so I shall leave that for tomorrow. xD
BUT OMG! THANK YOU, TIFF, SEATMATE AND DAVID!
And you too, Papaya. Because I felt your presence on the box. XD
You guys made my day. Thank you so much. <3<3<3<3
Mood: loved

Music: Amurita - Yui Makino