Yes, yesterday.
I
did
mention I'd write about it.
Whahah.
Besides everyday normal happenings which consisted of me eating, bonding with my cacti, hunting for more fanart, and taking a nap, and blowing candles (because it's normal on a birthday), I....
Sat down--I mean
really
sat down--and watched TV for the first time in 3248234623842695 years.
Saiyuki Reload Gunlock
and
Candidate Goddess
was on. Reload Gunlock is a shame compared to Gaiden and Gensomaden, but I watched it anyway. Candidate Goddess is so-so for me. I
do
see the Satoshi character in one of them. Oh, Yukiru.
Ate dream corned beef c/o my yayas. (With potatoes and onions!) OHMY. Mukahang tama ka,
anriz88
, tinatamad nga lang ata sila. XD
Bonded with my cacti some more. And it depresses me to think that Susan may die soon.
"Wala ka nang magagawa--mamatay na yan!"
Was my yaya's comment, how comforting. :|
When we were about to dine out for dinner at around 6pm, I took my bath. (Don't give me that look.) While I was drying my hair, my yaya told me to go downstairs. [INSERT DEJA VU OF FIRST YEAR BIRTHDAY]
I saw
psychedelic_aya
and
anne_delfin
there, what a pleasant surprise! They went all the way from red-alerted Camp Aguinaldo and possibly messy Camp Crame to visit me and give me my gift, how thoughtful. I later found out that
emo_eedjot
was also there. (Okay lang na wala kang regalo, 'wag ka nang mag-emo. XD)
They gave me a mocha cake. (My favourite!) The cake my family gave me was this expensive sweet one that my throat cannot handle so I did not eat a bite. XD (Actually, I still did not eat mocha cake yesterday because I am weird like that--Is it bad luck not to eat cake on your birthday?) I ate and shared the cake today at school.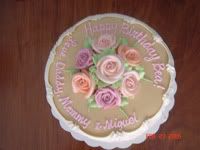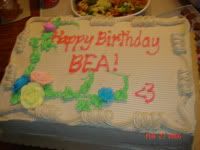 They gave me their gifts too, a box of stuffed toy keychains for my collection from Seatmate and
justhoopla
together with a bunny rabbit doll now named Pablo. (His emo atmosphere called for the name!) Seatmate also cooked me corned beef! And gave me butter loaf!
And Tiff and Sacla (and according to them, anyone else who will feed them money--LMAO) gave me an MP3 player! They bought it from Seatmate so they got it at a reasonable price!
THANK YOU! <3
The fact that you guys came in personal on the day itself amidst the stupid State of National my Ass thingamabob when you could have given me the next day at school made me really happy. I was truly touched. AND OMG--AN MP3 PLAYER!

(And I am obviously bitter. XD)
Even the box is awesomley shiny!
I have no name for said MP3 player yet. Thought it does not come with a headset, I don't care. Will buy dream headset with birthday money given. :D
Here's Pablo and the other unnamed keychains.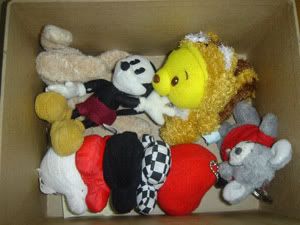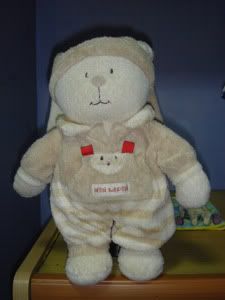 I removed Pablo's ribbons because
everyone got the impression that he was a girl.
After that, the three of them wandered and hung out at the playground because we had to go out. (Sorry for sort of throwing you out, guys! At least you had fun at the playground. XD)
We ate at a restaurant where the food and service wasn't that good but it was okay. My parents didn't like the food though, so they were a bit rude. I felt guilty when the owner went to me and gave me token for my birthday! (My mom told them it was my birthday.) It was a mug that I think he wrote/drew on personally in a rush, I felt touched. Thank you, owner of Japanese restaurant! The people were really nice though service wasn't good. The salmon sashimi never came. XD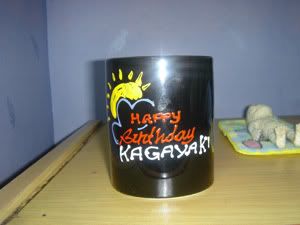 Random family pic:

Mom: Pa-kees!
Kuya: *tries to get away but also
takes time to smile at the camera*

Priceless. That picture is for dear Ex-Busmate, btw. :))
Erhm, that's it for yesterday. (Finally--sorry I was too detailed.) But I told you it was nothing special. XD
Thanks again to everyone who sent their greetings. <3 I wanted to fancy up the other pictures too but got too lazy.
NOTE: Because damned Photobucket won't work with me right now, that cool pic repetitive picture will have to exercise everyone's imagination until I discover how to fix it.
Fixed!
----
Today was hectic. I think I survived the Chem quiz, but you can never really be too sure. Noli practice was okay but I still don't think we're prepared for tomorrow. Cake was devoured by people fourth-floor over. Blahblahblahblah.
We
did
give our gift to Anirz. XD Whahah. That was weirdly fun.
Oh, and Noli poster was labeled weirdly that I had to explain to the whole class why I am "Kyoy". Nice. T_____T I don't even see the point of me being there, I only have two scenes for goodness sake.
There's nothing much to say about today except THANK YOU to Ally, Krinkle, Marga, Moning and Jilly for you guys know what. Thanks as well to those who kept sending greetings, yay. Birthdays really
do
make you feel special. Even my parents kept greeting me today. XD
----
Though this is a happy day, my yaya got sick. She threw up and it was bad enough that a nurse had to go to the house(!) Her blood pressure was high and I am worried. My mother told me she took medicine and just needs rest to be up and about again. BUT STILL!
Class drama sucks too. I am highly disappointed in you people, whoever you are. This is why TSIKS is so much better. You cross one of us, you cross all of us. BE PREPARED.
----
I'm not fond of these things but hey, let's give it a try:
WHAT WOULD YOU DO IF I:
» I committed suicide:
» I lived next door to you:
» I started smoking:
» I stole something:
» I was hospitalized:
» I ran away from home:
» I got into a fight and you weren't there:
WHAT DO YOU THINK ABOUT MY:
» Personality:
» Comments:
WHAT ABOUT US:
» Who are you?
» Are we friends?
» When and how did we meet?
» How have I affected you?
» What do you think of me?
» What's the fondest memory you have of me?
» How long do you think we will be friends or enemies?
» Have I ever hurt you?
» Would you hug me?
» Are we close?
» Emotionally, what stands out?
» Do you wish I was cooler?
» On a scale of 1-10, how nice am I?
» Give me a nickname and explain why you picked it.
» Am I loveable?
» How long have you known me?
» Describe me in one word.
» What was your first impression?
» Do you still think that way about me now?
» What do you think my weakness is?
» Do you think I'll get married?
» What about me makes you happy?
» What about me makes you sad?
» What reminds you of me?
» What's something you would change about me?
» How well do you know me?
» Ever wanted to tell me something but couldn't?
» Do you think I would kill someone?
» Are you going to put this on your journal and see what I say about you?
Mood: mixed

Music: Swallowed in the Sea - Coldplay