YEARBOOK STATUS IS 99.99% DAMMIT.
Now the real reason I am posting. Look what I found in my photobucket! Drew/colored this about a year ago.
I can't even read my own handwriting!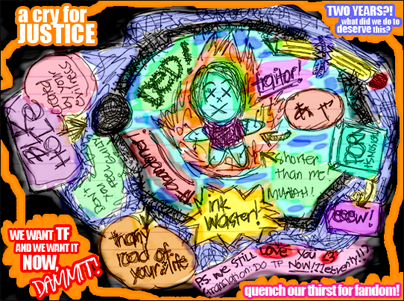 I have skillz, ohohohoho!
(Click on le image for a bigger one. Le original was too big for my layout.)

IF YOU WANT TO MAKE A DIFFERENCE, GO LET OUT YOUR FRUSTRATIONS NOW!
LET YOUR RAGE SOAR, LET YOUR VOICE BE HEARD!
FORCE THOSE CHAPTERS OUT!
I had more emotion in my head but Aya gave me freebies so I'll be gentle. Yes, this is gentle.
This post was only supposed to contain the randomness of last year's drawing via rabid TF battlecries and le capslock key. But
psychedelic_aya
made me giddy today! So I get to pimp my
new
layout and userinfo!
kyoy
kyoy
kyoy
kyoy
Some of you might have seen the layout (minus the shiney! header) by now. Because I've actually had the layout for more than a month already, LOL. But I didn't want to spam you all without all the lovely banners that dear Aya made for me. ♥ Thanks again, dear! *forever shameless but eternally grateful* I also changed my default icon, because it suits the layout more. XD
~♥S+S♥RABURABU♥~
What do you all think? :3 It's simple, but I'm quite proud of how my info looks. Best viewed in Firefox, as usual! Like the last time, I think it's wonky in IE so I took
a screenshot
just in case. Copy-pasted most stuff but have a look at it anyway? :3
Let me learn about you guys. :3
Do you use Firefox or Internet Explorer?
Another browser. (Specify in comments?)
This is so random, but what's your gender?
I have a Y chromosome, yo!
PS,
ISADA PWNS FOR ENDING THE YB PANIC MODE WITH POKEMON AIRPLANES
! The whole conference was stressful but fun!~BUKAS NA, CAN'T WAIT!
[Edit1] If you still don't know what I'm ranting about and just went, "TF, WTF?" on the weird doodle above,
this will help
. XD
Mood: HIGH

Music: The Garden of Everything - Steve Conte & 坂本真綾