*pauses*
Thanks to
psychedelic_aya
for telling me this and to her friend,
teefa85
for informing her. (I wouldn't have believed her if I had known otherwise. Credibility, as Solae once said.)
*breaks loose*
WILD ARMS ALTER CODE: F WAS DELAYED!
I hunted the internet for more research and I found out this news was released way back in the first week of May. Damn me for my incompetence to search for news.
*bangs head on the table*
The Various Release Dates I found:
RPGamer
August 2005
RPGfan
16 August 2005
AllRPG
16 August 2005
GameSpot
16 August 2005
GameSpy
16 August 2005
IGN
16 August 2005
GameStats
16 August 2005
PSXExtreme
16 August 2005
GameRankings
August 2005
ConsoleGold
16 August 2005
MetaCritic
16 August 2005
DarkStation
16 August 205
In short, the release date is
AUGUST 16
.
*faints*
The list could go on but I am too lazy and annoyed to search more. I checked
Agetec
, the publisher of WAF. On their website, the release date is
Q3 2005
, meaning in the 3rd quarter of 2005, which is doesn't really contrast to August 16. But since the date still hasn't been confirmed by Agetec, that will be the
unofficial release date
as of now. (Ah, babbling again.)
Agetec is quite a small company so I understand why they keep getting problems but I still need to find out why it keeps getting delayed. It was delayed at least 3 times now. I wonder what's the problem? Must research more on this....
GAR.
But all is not frustrating in the
Wild ARMs
fandom. I searched the web for WA fanart to comfort me and I found a website full of wonderful WA2 fanart! Oh yeah! Sure, I may not like WA2 as much as WAF but the fanarts were just so cute!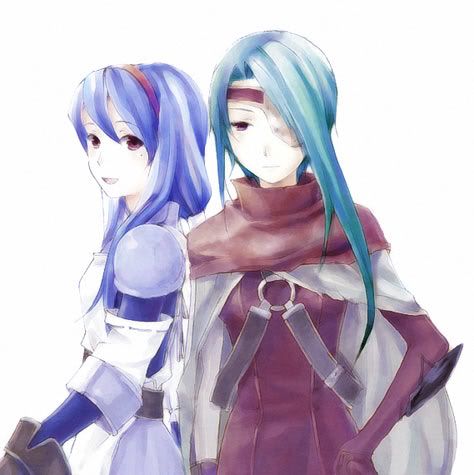 Kanon looks so cool! The artist is pretty good too. She seems to be a WA2 fan because all her works on Wild ARMs are WA2 inspired. I'm happy to see WA2 fans out there, since it's not really that popular in the series. Heheh.
Okay, enough for now. Must ransack the internet for more on WAF's delay....
| | |
| --- | --- |
| | Mood: annoyed |