Was feeling
really
down for the past few days but now I feel a lot better. :D Thanks to
psychedelic_aya
,
darkmaestrox
,
sm16
,
blue__nek0
and
up_ame
! (Kahit na di niyo alam kung bakit, napasaya niyo talaga ako. Salamat! ♥
But arg, I missed a lot from the brief internet hiatus! CODE GEASS ASDAKDFHSKFK!
Maybe now I'll start Harry Potter 7.
Another facts-meme (tagged by
riyuji
):
• Each player starts with eight random facts/habits about themselves.
• People who are tagged need to write their own blog about their eight things and post these rules.
• At the end of your blog, you need to choose (8) people to get tagged and list their names.
• Don't forget to leave them a comment telling them they're tagged, and to read your blog.
I did this countless times before but what the heck, this post needs to be longer. XD
★ I used to think blogging was stupid, now you see me spam for no reason. LJ is my first and (so far?) only blog.
★ I moderate 8 LJ communities but (recently) I fail at 4.
★ I haven't seen Code Geass 24-25. :(
★ I have more Sakura icons than Syaoran icons—even in my harddrive. Sad, but true.
★ I still want, search and lust for CLAMP Gashapon 1 and the Twin Spica illust book. Cool local shops with rare awesome goods, anyone?
★ I spazz everytime someone even just
mentions
Twin Spica. It deserves more love. :(
★ I'm still hungry.
I tag you. :D
And another one from
riyuji
:

LOL
alabapoy AND
psychedelic_aya AT LE BLINK. XDDDD
I don't know if plugging here would help but just in case:
UP AME FANART CONTEST
NOVEMBER 24, 2007 • 1PM
UP BAHAY NG ALUMNI, DILIMAN, Q.C.
PLEASE JOIN IF YOU WANT TO. ♥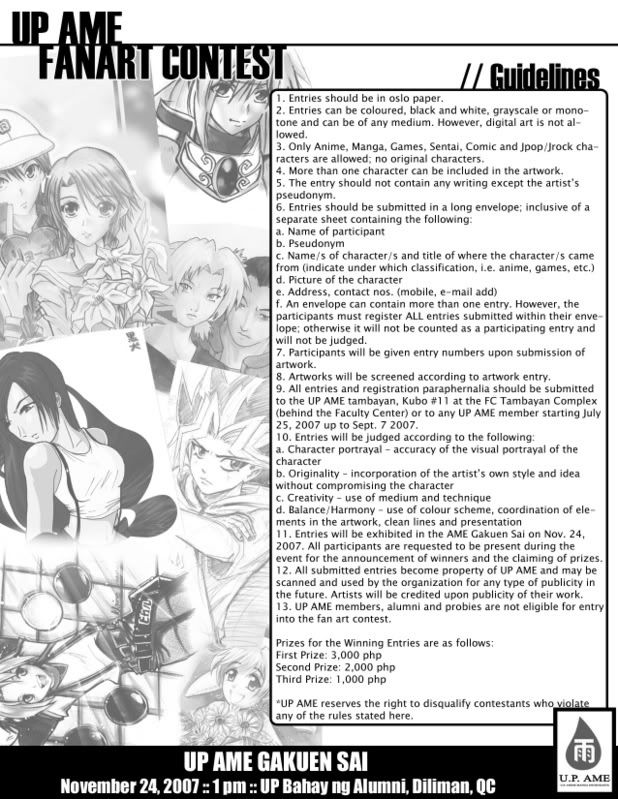 Sorry I haven't been around recently, I'm doing my best to catch up on all your
lovely spam
posts. :D
PS, GRATEFUL LEECHERS LIKE
YOU
ARE ONE OF THE REASONS I LOVE UPLOADING.
THANK YOU FOR YOUR GRATITUDE, WHOEVER YOU ARE!
♥ ISN'T HELPING OTHERS SO FUN?
And thanks to everyone else who took the time to comment not just for requests (although I have noting against those XD). I don't always reply but I read them all and I really appreciate that you care enough to do so. :D
"Again, thank you very much. You hard work is very much appreciated."
- Anonymous but nevertheless, still loved leecher
Mood: loved

Music: PCSO