Wild ARMs a.k.a. Wild ARMs Alter Code: F
I know her name! I finally do! Yayay. Remember that girl I was frustrating about because I didn't know her name? Well, now I do! Yayayay.
Her name is
Aura
! Yayayay.
Now, everytime I see this face: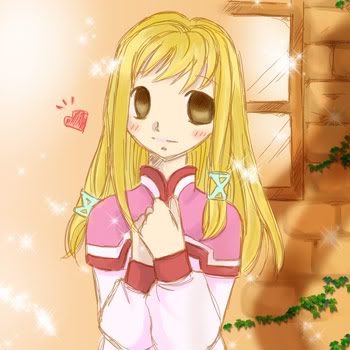 I shall know that her name is Aura! Yayay.
And it's all thanks to
this site
!
Muwahahahahahahah!
I was so excited, I seriously felt my heart pounding when I saw her name. XD I'm so happy because everytime I search for Wild ARMs fanart, she and Zed are most popular couple I see.
Now, I won't be clueless whenever I see another cute fanart of them. Oh yeah!
*dances around the room happily*
I just hope my assumption is right. The site I went to is a Japanese site you see, so there's a possibility I may be wrong. But this time, I'm sure I'm right!
Muwahahahahaha! I'm on top of the world!
*laughs manically*
Wild ARMs: The 4th Detonator
I think Yulie is connected to this guy:
It's because I see lots of fanart with them both in it.
Like this: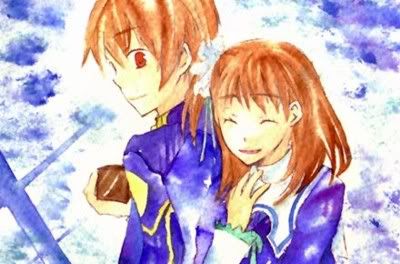 Or this: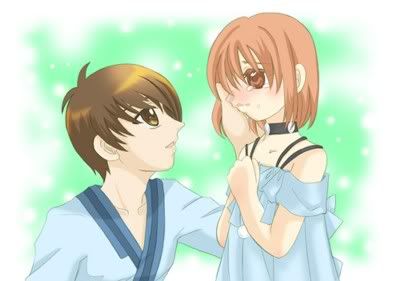 And even this:


I think his name is
Kresnik
. And judging from the fanarts, I think he's Yulie's older brother. Or a brother figure, at least. Just look at them! They look so close! If he was a lot more older, he could also be her father. XD
LOL.
----
Waiting for WAF is making me download lots of fanart. By the time the game is released, my folders will be overflowing of WA fanart.
*sighs*
I sure hope Agetec hurries....
Oh, and Live-eviL and DatteBayo finally released the 8th episode. Yipee for me! Surprisingly, they released late (today). Which is odd, because they usually release every Sunday.... I wonder what happened? Oh well! It doesn't matter now, at least I can finally download it! Muwahahahahaha! Yayayay.
Mood: proud

Music: Come Get Some - Rooster